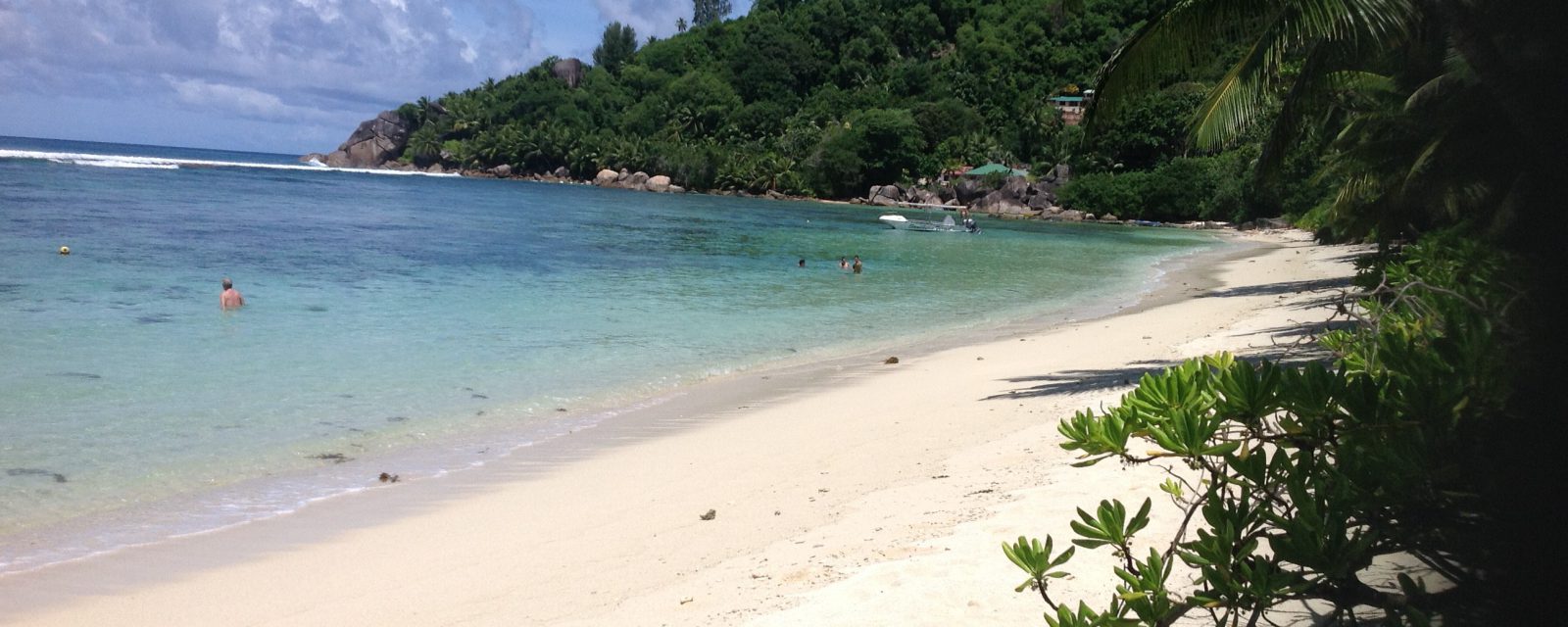 My Tour Around the Seychelles April 2016
Our journey to the Seychelles started at Heathrow where we had booked the Skyteam Lounge in Terminal 4. Very impressed with the lounge which is on two levels. There was a hot and cold buffet on offer along with alcoholic and non-alcoholic beverages which you can just help yourself too.
We then flew on Ethiad Airways to Abu Dhabi which is around a 7-hour flight. This was on the new A380 Airbus so a huge aircraft with bigger than average seats. We went for a look in business class with the full flat bed seats and then into First Class which has compartment seating and looked so comfortable and expensive ! There is also a Residence onboard which is catered for two people at around £18000 return – very nice
We had around a two-hour connection in Abu Dhabi which was just long enough to look around the Duty-Free and then onboard for the flight to Mahe. This flight was around 4 hours 45 minutes, it is amazing how quick the flights seemed to be, I think the break in journey helped a lot
On arrival at Mahe we were met by the Rep from Masons Travel and transferred to our first hotel of our five night stay.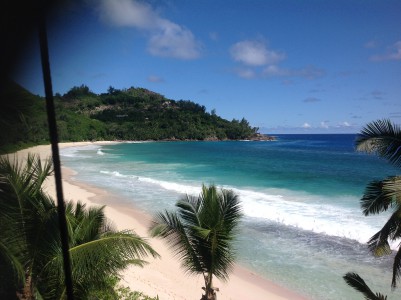 Banyan Tree on Praslin – We were taken straight to our Beachfront Pool villa. Wow! what a beautiful villa in a beautiful setting. You walk in through the front door where there is a massive double bed which looks straight out onto the private pool. The bathroom is at the back of the villa with a separate shower cubicle and a walk in wardrobe. Slippers and bathrobes are provided for your comfort. The villa feels very spacious with a seat on one side and dressing table and chair on the other side.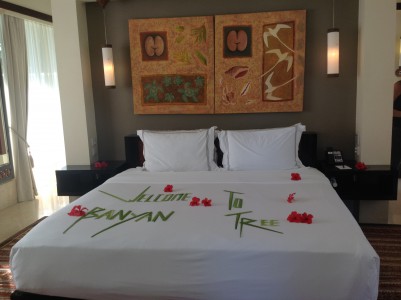 Outside there is the private pool which is a great size for two people with a covered seating area with sofa and table just to the left of it. There is alos an outside Jacuzzi and outside shower if you want to try al fresco washing.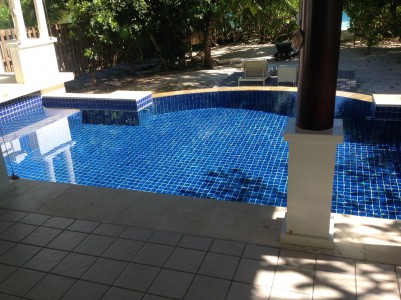 There are two sun loungers in the garden and the best bit is that you can walk right onto the beach from the garden. The beach is absolutely stunning with crystal clear water and perfect white sand. There was an absence of sun loungers on the beach but we found out later that the law in the Seychelles prevents hoteliers from having them on the beach due to the high tides and to preserve the ambiance of a beautiful beach.
We spent a couple of hours on the beach and in the sea although the sea was very rough and you couldn't swim in it. There was a storm in Madagascar which was causing some very high waves and rough sea in the Seychelles.
In the evening, we had a hosted dinner in the Saffron restaurant  which is Thai Cuisine in a very Asian-inspired setting. We were served a three-course Thai menu with a mixture of different dishes which went went down very well with everyone, some were a little hotter than others and I had to gulp some water down a few times during the night. The wine glasses were huge!!
After dinner we went to the hotel bar for a night cap before bed. The average price for a glass of wine was around 230 Rupees which works out to around £10 and a cocktail was around 300 Rupees which is approx. £15
 Banyan Tree Opinion –
First impressions was that the Banyan Tree is really for people who want to get away from it all and to do absolutely nothing. According to the manager of the hotel a lot of people choose to stay in their accommodations rather than venture out.
https://youtu.be/Ckd9iMR-T9M
To get around the resort as quite spread out,there are little golf buggies to take you and there is a variety of accommodation to choose from.
There are a few dining options here together with in villa dining options. After dinner we sat in an area overlooking the fabulous beach whereby you could have a good variety of drinks to choose from whether hot or cold. After having visited some other hotels after the Banyan we did pick up that it is more expensive drink wise at this hotel.
There is also a dive centre nearby if you wish to go on boat trips, snorkel or dive.
The Banyan Tree is only recommended for people who want an extremely quiet hotel and would recommend it for a few nights combined with another hotel. They confirmed that most customers stay on average 3 to 5 nights.
We transferred over to the Four Seasons Hotel for a site inspection. This is a very impressive hotel and fairly large.
Four Seasons – Mahe
First impressions were that this resort is very spread out with the accommodation dotted around on the hillside. At the top the views are stunning with total greenery and the turquoise blue sea lifting the colours of the land and a white sandy beach. The only way to get around is the golf buggies as it is extremely hilly. There are all types of villa and suite accommodation all very spacious and some with infinity pools. The views from the rooms will not disappoint.
The beach offers snorkelling, surfing and stand up paddle boarding these are just some of things available. Not forgetting families as the hotel caters well for children and there are programmes for children aged 4 to 12 and also aged from 9 to 15 years. The area is also great for walkers and joggers .
There are a couple of restaurants here offering fine dining/ international cuisine and cocktails.
The spa offers all sort of treatments even a night spa is possible . It's location overlooks all the greenery.
To conclude this hotel is very much all about the views. We did not stay here but it looked like it had more going on than Banyan Tree.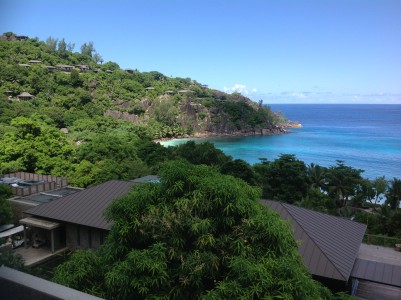 We left the Four Seasons resort and hit quite a downpour of rain, when it rains in the Seychelles it rains!
Then we went for lunch on Eden Island to the Bravo Restaurant. This sits on the edge of the marina with fabulous views across the bridge and the island of Mahe.
The restaurant is very casual and has a great lunch menu. The portion sizes were huge and very reasonably priced too.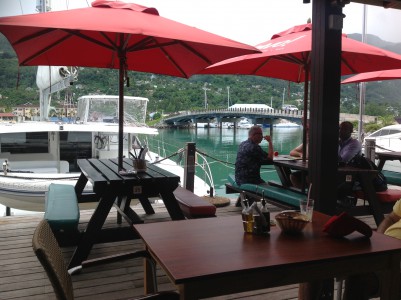 Then we had a tour around Victoria the Capital city and went to look at the local market where they sell fish and spices and fruit and veg. Not as big as I was expecting – nothing like the markets back home.
H Resort Hotel
Our room was a Junior Suite with views of the garden. It had a large balcony with big table and chairs and a sofa. Twin four poster beds with drapes. Lovely sized bathroom with his and her sinks, large shower and bath tub.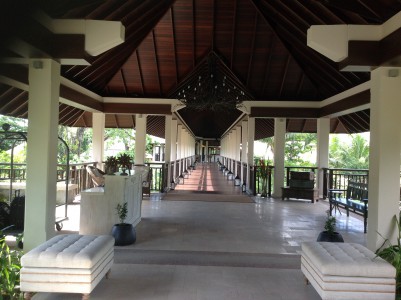 We had drinks in the garden of the H Resort before having dinner in the buffet restaurant. There was so much to choose from including freshly cooked pizza. The small portion size little desserts were lovely.
After dinner we went to Traders Restaurant which is on site of the hotel and had drinks and listened to the live Cuban band. Great place to have drinks and a boogie.
The H Resort Conclusion
Situated about 10 min's drive from Victoria, and situated just off the main road, the entrance to the hotel is over a wooded walk way to the main reception area, which is a large open area, which also has the lobby bar, and walk out to the pool & beach area.
The rooms are spacious and comfortable, but please remember the bathroom in not enclosed the toilet & shower have glass semi frosted doors, and the bath tub is open, although a French shutter style blind can be used between the bath tub & beds.
The balcony has table & chairs and a large day bed to lounge on
Jnr Suite Rooms are situated in block and offer garden view rooms, although sea facing none are advertised with sea view due to trees obstructing view. Villas are more to the beach and have their own pool, but not private.
All rooms have Tea & Coffee facilities which are complimentary, Mini Bar payable
There are lots of choices of restaurants& Bars (7 in total) offering a mixture of cuisines, even to private dining where the Chef cooks what you want to eat !
Mainly booked on Bed-Breakfast with an HB upgrade, HB can be used in A la Carte restaurants, where you will get a credit towards meals (drinks not included)
Trader Vic's opens until 1am and becomes a music bar (Cuban ) if you want a little entertainment and a late cocktail
Children Club & Spa available at hotel This hotel is would be great for families or couples which still like a little something happening in the evening, it is reasonably priced and the bar prices are similar to London prices in my opinion
http://www.youtube.com/watch?v=Ckd9iMR-T9M
To Enquire or Book Your Trip To The Seychelles Call: 0114 3273436
honeymoons in the seychelleskempinski seychellesluxury seychellesseychellesseychelles island hopping

Jackie Frith