Ibiza
Where the sun is blazing and the nights are wild
Ibiza is a world-renowned island located just less than fifty miles off the coast of Spain.  Over the past couple of decades it has built a reputation for its hectic nightlife, with clubbers flying in from all over the world to spend their nights enjoying wild parties and their days recovering on one of the island's gorgeous sandy beaches.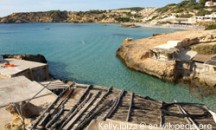 There's much more to Ibiza than just hedonistic fun and baking temperatures.  The island also offers picturesque sights and natural beauty.
If you're not into nightly parties you can still find calm areas like Cala Gracio, a mile and a half north of San Antonio, where you can enjoy the warm sea and untouched beaches.  A natural cove means there are no dangerous waves or extreme currents, so children can swim freely and safely.
Weather is nothing to worry about when you book your holiday in Ibiza.  Whatever the season, it's always sunny, and in summer temperatures can reach as high as 30 degrees.  Don't bother with your rain gear but make sure you take plenty of sun protection.  Even in winter it remains warm, when the island atmosphere is calmer, more relaxing and peaceful.
Ibiza has long held a deserved reputation as the party capital of Europe.  If you love to party, head into Ibiza Town where you'll soon enjoy the kind of nightlife found nowhere else on Earth.  From June until October the island rocks with thumping sounds, with the decks manned by internationally renowned DJs such as Jonathan Ulysses, Lee John and Pete Gooding.
Whilst in Ibiza Town make sure you check out Pacha, one of the biggest nightclubs in the world and the place for the world-famous Renaissance and Ministry of Sound.  Nearby are the superb beaches at Cala Tarida, Portinax or Es Cana.  You can spend your days chilling out here before embarking on another night of clubbing pleasure.
If you prefer a little more sophistication to your partying, head to San Antonio and enjoy a drink and a chat at one of many waterfront wine bars.  You can enjoy a cocktail whilst watching the sun slowly sink into the Mediterranean, then a peaceful walk back to your hotel as the crickets start chirping.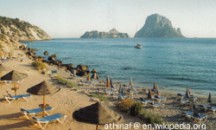 For even quieter times, make Santa Eulalia your destination.  Situated on the banks of the river of the same name, Santa Eulalia is Ibiza's Gastronomic and Cultural Centre.
You can sample some of the island's finest cuisines along the Calle San Vincente or 'Street of Restaurants'.  Musicians and artists mingle with holiday-makers, creating an atmosphere you'll remember forever.
The best way to get to Ibiza is by plane, to Ibiza Airport.  From there you can take shuttles, taxis or buses to your hotel, apartment or villa.
Ibiza is not just about clubbing; there's plenty of choice for every type of traveller, from single persons, couples looking for fun or families with children.  The island has thrived on tourism and provides a huge choice of amenities and accommodation, from quaint, traditional inns to international-class hotels.  This small island can provide anyone with all their holiday needs.
Seychelles,
7 nights at the Hilton Seychelles Labriz Resort & Spa 5* with a free upgrade and direct flights with British Airways from read more »
Travel: 01 Sep - 31 Oct 2019
Book By: 31 Jan 2019
Central Mediterranean , 17 nights, Full Board
Enjoy 17 magical nights on board Balmoral and sail between a string of gorgeous islands and cities in sun-soaked Spain, read more »
Travel: 02 Apr - 19 Apr 2019
Book By: 02 Apr 2019
Showing 1 - 2 of 2 Special Offers
Showing 1 - 1 of 1 Ibiza Client Reviews

Arenal | Ibiza | Reviewed 16 Oct 2013
I recently booked a holiday to Ibizia for my boyfriend and I via Jackie. We originally had looked around online and couldn't find a decent hotel for any reasonable price. After asking Jackie to look she came back with several options, all which were fantastic and at a far better price than we had found anywhere else. We didn't have to lift a finger until the day we went to the airport, other than to type in our card details for payment! The hotel was lovely and in a fantastic location. Jackie answered all the questions that we had very quickly and it is obvious that she is very good at what she is doing! In future I won't be bothering to spend hours looking around online or trailing round travel agents and will just go straight to Jackie!


by Josi Long
Sheffield, Sheffield

Write a Review