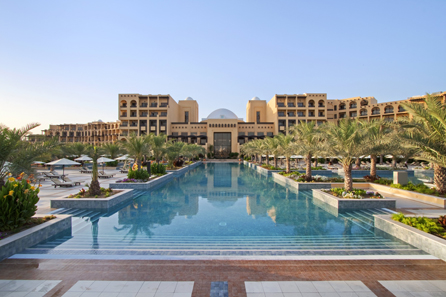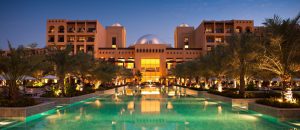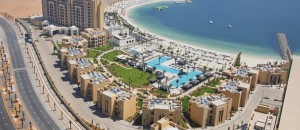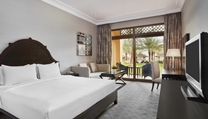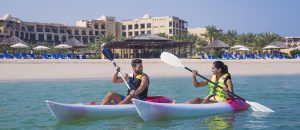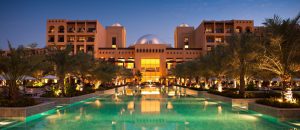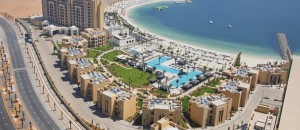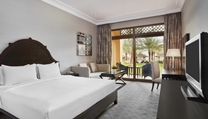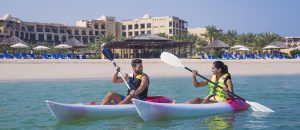 A cosmopolitan base in 'The Rising Emirate',
Set on the northern tip of the Arabian Peninsula of the most pristine of the Emirates, Ras Al Khaimah, the Hilton Ras Al Khaimah Resort & Spa is a luxurious 5* resort offering the perfect destination for a family getaway. Sprawled over 1.5km of private white sandy beach, this award winning resort offers the best in facilities and services. Unwind under a parasol at the beach, work out in the fitness center or enjoy a game of volleyball at the beach club. The resort also has a 200 sqm kids' club with swimming pool and slide, full size sports court, as well as 2000 sq. meter spa with nine treatment rooms. Visit the water sports center for activities such as sailing or waterskiing or relax with a dip in one of seven swimming pools. The Hilton Ras Al Khaimah is a food lovers resort, where guests can choose from a range of inviting onsite restaurants, from rodizio-style Brazilian dining, to beachside fare, Asian specialties or Italian fine dining classics. The extensive range of dining options at this Ras Al Khaimah resort present a choice for every occasion. Some restaurants, including the all-day buffet Maarid restaurant, offer a kids menu and a special children's buffet.
The Hilton Ras Al Khaimah Resort & Spa features each of our guest rooms and chalet suites at Hilton Ras Al Khaimah Resort's 475 spacious and comfortable rooms, suites and villas feature a balcony or patio, to admire the dazzling sunsets and Arabian Sea. Some rooms offer direct access to the beach with their own garden area where kids can enjoy playing. They also include high speed internet access, mini bar, and LCD TV among others.
The Hilton Ras Al Khaimah Resort & Spa offers an ideal location nearby many things to do and is about an hour and 15 minutes' drive from Dubai. Discover popular attractions and activities surrounding the hotel – in addition to the many on offer in the resort itself. Enjoy horse riding or quad biking nearby, or play a round of golf at one of the area's 18-hole championship golf courses. Explore the city's souks and shopping malls, a short drive from the resort, or learn about its ancient history at the RAK Museum.
Let the concierge arrange a trip inland to see the desert, go on a mountain safari, or sail in a traditional dhow in the beautiful Musandam Fjords. For the children, Iceland Waterpark and Dreamland ensure an unforgettable day out.
Travelers looking for a destination with year-round sunshine, sweeping white sandy beaches, soft adventure and world class resorts are invited to visit Ras Al Khaimah, the northern most emirate of the UAE.
Ras Al Khaimah is a unique destination for visitors of all ages the emirate boasts of beautiful mountains, red sandy desert and lush green plains along with a series of creeks and lagoons. It has a rich heritage dating back 5,000 years, which manifests in numerous historical sites, forts and abandoned villages. The Emirati culture is omnipresent in Ras Al Khaimah and you will be welcomed with the warm Arabic hospitality wherever you go.
Ras Al Khaimah offers a variety of entertainment and relaxation facilities including exclusive Hotels & Resorts, international cuisines' restaurants and selective spas, all at great value for money.
With a wide range of activities covering Watersports, Sailing Cruises, Desert camps, Golf courses and Mountain Adventures, the emirate of Ras Al Khaimah presents an ultimate outdoor experience for residents and visitors alike.  64 kilometers of coast line with crystal clear water and white sandy beaches are a heaven for all sun-seekers.

Alison Vella