Madagascar
For many people, when they think of Madagascar they automatically picture the film. However, Madagascar is also a very beautiful island country located just off the southeast shore of Africa.
It is known to be the world's fourth largest island and if you choose holidays to Madagascar you will come away feeling refreshed and amazed at all you have seen. So just what are Madagascar holidays known for?
What to Expect from Madagascar Holidays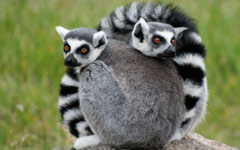 One of the main things that the island is known for is it's collection of unique wildlife. In particular the ring tailed lemurs that freely roam the island are known to be incredibly friendly. It is thought that around 5% of plant and animal species that exist today can all be found on your holidays to Madagascar. This makes it a particularly popular destination for nature lovers.
The main thing to keep in mind about this fantastic island is the fact that the roads are pretty terrible. This means that a lot of it is accessible only by private plane or boat. It is a great island to explore if you're a budding adventurer. The National Parks are something not to be missed on any holidays to Madagascar. They are perfect for the whole family to enjoy.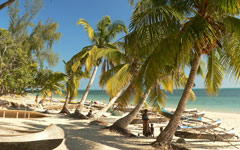 An activity also not to be missed on Madagascar holidays is an exploration of the island's coastline. There is 5000km of coastline and 450km of barrier reef.
If you love diving then you will be in your element in this great country. There are even underwater shipwrecks and cathedrals to explore. It truly is a diver's paradise. The underwater marine life you'll get to see include rays, reef sharks, whale sharks and graceful turtles.
If you are looking to spot a few lemurs then the Parc National de Ranomafana is the place to head to. With hot springs as well as plenty of wildlife to see, this is a very popular attraction on Madagascar holidays. You will go off on a trek to see bamboo lemurs, before heading to your own little hot tub to relax in.
If you want to take something back with you from you Madagascar holidays which will stay with you forever then head to Akany Avoko. This shelter is home to around 120 homeless kids and you'll get to see the true extent of poverty around the world. It can be very humbling to meet these kids and see the work that is being done to help them.
Dining Out in Madagascar
One thing that may surprise you on your holidays to Madagascar is the amount of French inspired food available. The French colonized Madagascar and now you'll find plenty of delicious treats such as croissants and sweet coffee with condensed milk. Banana crepes are another delicacy on offer.
There is also a lot of fine dining to be experienced. The La Varangue is an extremely highly sought after restaurant in Antananarivo.  You'll find the menu there absolutely outstanding. Example dishes include steak accompanied by apple cannelloni.