Dubai Holidays
A city break in Dubai allows you to experience a type of culture simply like no other you've probably experienced before.  The western influences cannot be denied, as Dubai has risen in reputation in recent times as a tourist haven, but the Bedouin way of life retains a strong voice, with its traditions of storytelling, poetry, song and dance.  Dubai is also the ideal place to experience traditional Arabic architecture, modern skylines and a developing contemporary art and fashion scene. Consider Dubai holidays for unforgettable time of life.
Dubai has one main airport, although you may also reach the city state (Dubai forms part of the United Arab Emirates) via the neighbouring emirate Sharjah or Abu Dhabi.  From Dubai International Airport you commence your Dubai city break with a taxi ride into the city.  If you arrive during the day you may also consider using public transport to journey from the airport to the centre of Dubai.
A city break in Dubai will no doubt see you mix the city's ultra-modern approach with some traditional Arabic customs.  One minute you will be strolling through a sleek and spotless shopping mall, the next you will be haggling with traders in a traditional marketplace.  Dubai has countless bars and even an indoor ski park.  You can enjoy all the modern amenities by day then watch the sun go down whilst seated on the back of a camel in the evening.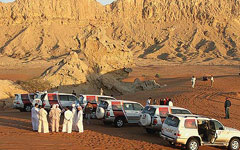 As you might imagine, Dubai is a very hot place.  For the traveller not accustomed to the relentless and searing sunshine, the best times to take a Dubai city break are the slightly cooler months between November and March.
Watch out for January though, as in recent years this has become the wettest month in Dubai's calendar.  If you want a cheaper break try the summer months but be warned, the heat at this time is unrelenting.
Dubai operates under strict Islamic law so you must be aware of the local ways of behaviour before you start your Dubai city break.  Dress conservatively at all times with as much bare flesh covered as possible, especially if you are female.  Affection is public is also frowned upon.
During the festival of Ramadan you are not even permitted to share a room with a partner unless you are married.  Do not think you can risk it because you will be in a lot of trouble if found out.  Swearing and rude gestures are also a no-no, as is drinking or being intoxicated in public.
For a taste of the old city whilst on your Dubai city break, try visiting the Al Ahmadiya school in Deira, (the first school opened in Dubai) or the Bastakiya district which has many old restored buildings, art galleries and cafés.  You can witness the speed at which Dubai was turned from a poor village to a super-modern city at the Dubai Museum at the Al Lbn Abi Talib Road.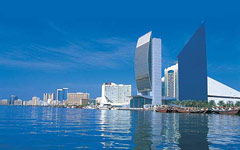 Modern Dubai holds many breathtaking examples of modern architecture, unmatched by anywhere else.  If you've the stomach for heights, visit the Burj Khalifa, easily the tallest man-made structure in the world, over half a mile in height.
Your city break in Dubai will no doubt also take in the sandy beaches, crystal clear waterfalls, fossil-lined cliffs and freshwater lakes.
A Dubai city break takes place in an ultra-modern metropolis quite unlike almost every other city in the world.  Book a city break in Dubai to rub shoulders with billionaires whilst enjoying the sun, sea and sand.
Our Dubai Holidays will definitely etch themselves on your memory.
North Male Atoll, 7 nights, Half Board
Flights with Emirates (1 stop in Dubai), , 7 nights staying at 4/5 Star Centara Ras Fushi, , Ocean read more »
Travel: 01 May - 30 Nov 2018
Book By: 09 Sep 2018
Dubai, 5 nights, Bed & Breakfast
Direct Flights with Emirates, , 5 nights staying at 5 Star DAMAC Maison Dubai Mall Street, , One Bedroom read more »
Travel: 19 Oct - 30 Nov 2018
Book By: 14 Sep 2018
Dubai, 4 nights, Room Only
Direct Flights with Emirates, , 4 nights staying at 5 Star Moevenpick Hotel Jumeirah Lakes read more »
Travel: 13 Nov - 10 Dec 2018
Book By: 09 Oct 2018
South Male Atoll, 7 nights, Bed & Breakfast
Flights with Emirates (1 stop in Dubai), , 7 nights staying at 5 Star Deluxe Jumeirah read more »
Travel: 01 May - 30 Nov 2018
Book By: 09 Sep 2018
Villingili Island, 7 nights, Bed & Breakfast
Flights with Emirates (1 stop in Dubai), , 7 nights staying at 5 Star Shangri-La's Villingili Resort and read more »
Travel: 01 May - 30 Nov 2018
Book By: 09 Sep 2018
Helengeli, 7 nights, All Inclusive
Flights with Emirates (1 stop in Dubai), , 7 nights staying at 4 Star Superior OBLU by Atmosphere at read more »
Travel: 01 Nov - 30 Nov 2018
Book By: 08 Oct 2018
Showing 1 - 6 of 16 Special Offers

Atlantis, The Palm, DubaiExperience the delights of this wonderful place read more »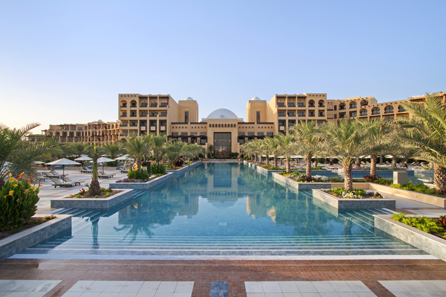 Set on the northern tip of the Arabian Peninsula of the most pristine of the Emirates, Ras Al Khaimah, the Hilton Ras Al Khaimah Resort & Spa is a luxurious 5* resort offering the perfect destination for a family getaway. Sprawled over 1.5km of private white sandy beach, read more »
The hallmarks of One & Only – supreme location, authentic style, genuine hospitality and a lively energy – will all be discovered at the new One & Only The Palm. With its central courtyards, manicured lawns and arched entryways, the resort's exquisite read more »
One & Only Royal Mirage pays tribute to Arabian architecture and hospitality on a truly regal scale. Considered the most stylish resort on Jumeirah Beach, it comprises three equally distinctive properties – The Palace, Arabian Court and Residence & read more »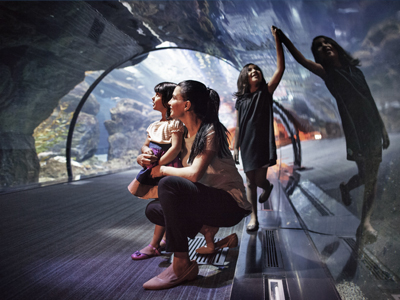 The perfect family holiday is all about making sure there's something for everyone. That's why Dubai is quickly becoming the top family destination in the world. Where else can you play on the beach in the morning, go skiing at lunchtime, explore the desert in the read more »
Showing 1 - 6 of 19 Dubai Travel Blogs
Showing 1 - 1 of 1 Dubai Client Reviews

Dubai | Reviewed 30 Jan 2015
We have used Karens expertise on at 3 far away trips to-date and each time we have found Karen to be excellent in offering advise and great service, along with competitive pricing. the hotels have always been first class so we look forward to our next two trips with confidence.


by john
redditch, worcestershire

Write a Review